Flaman Trailers Prince Albert
Prince Albert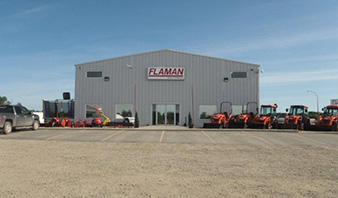 Address
Hwy 2 South (Box 1987)
Prince Albert, Saskatchewan
S6V 6K1
In Prince Albert we have all the trailers you could need: highboy and lowboy flat deck trailers, cargo trailers, tilt trailers, utility trailers, AirTow Level Load trailers, Ag transport trailers (both sprayer and combine), dump trailers, trailers for recreation, snowmobile trailers, car haulers, stock haulers and more.
Prince Albert is also one of the few dealers that has not only a mainline rental fleet including trailers and agriculture equipment, but also concrete tool rentals, which include drills, saws, power screeds, concrete vibrators, jackhammers, and a large variety of bits. Don't worry, we still rent harrows, discs, grain vacs, post pounders, and trailers that come in both enclosed and flat deck, with sizes ranging from 6'x12' all the way up to 24' decks.
As far as agriculture equipment goes, we are a mainline dealer or aeration equipment, bins, augers, conveyors, grain carts, and just about everything else you'll need for seeding and harvest. Our service department services everything that we sell.

Located in the gateway to northern Saskatchewan, we are the guys you're looking for when buying a boat lift or dock system for your beachfront locations at any of the great lakes that the Prince Albert and surrounding area have to offer.