Flaman Trailers Nisku
Nisku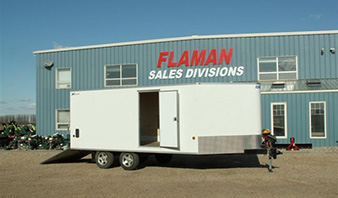 Address
2310 Sparrow Drive
Nisku, Alberta
T9E 8A2
Flaman Trailers Nisku offers a
n immense
selection of trailer
s. Come see use for:
Flat Deck Trailers, in lowboy and highboy configurations

Dump Trailers
Utility Trailers
Tilt Deck Trailers
Snowmobile Trailers
ATV and UTV Trailers
AirTow Level Load Trailers
Ag Specialty Transport Trailers for combines and sprayers
Industrial Trailers
Equipment Trailers up to 80,000lbs GVWR
Specialty Trailers, like mobile offices, and job shacks
Plus much more!
Talk with our knowledge
able
staff about
the ideal option for your needs.
If we don't have quite what you
'
r
e
after, we can custom order from top
Canadian and U.S.
trailer manufacturers
.
We are
Flaman's
main industrial and commercial trailer located in the Edmonton area
,
offer
ing
a full trailer service
department
and
a large selection of trailer parts and accessories.
Flaman
proudly
offers quality products to help you with a light-duty toy hauler, commercial dump trailers or heavy-duty hot shot hauling
with 40,000lbs GVWR.
Our Nisku location is also home to Flaman Agriculture, Flaman Fitness and Flaman Rentals.
Come visit us at our store
,
conveniently located off Highway 2. Our friendly and knowledgeable product experts are happy to help you out!